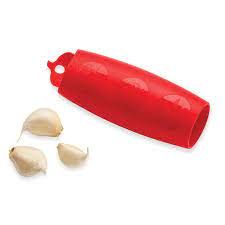 Garlic Peeler
Kuhn Rikon
Regular price $10.50 Sale
Just roll and peel. This Garlic Peeler lets you peel garlic cloves easily without the odour passing to your hands. Place the clove inside the Garlic Peeler and with your hand on the middle of it, press down and roll - it's that simple! The peel will come off like magic!
Quickly peels garlic cloves without getting the smell of garlic on your hands.
Curved shape of peeler keeps clove in the middle.
Food-safe silicone.